Hey, I'm Jake Przespo.
Over the last 15 years, I've designed products across education, entertainment, social, medicine, civic engagement, productivity, music, and a few other industries. I began my journey building internal products for General Electric before joining Skillshare as their first employee and Product Designer.
After Skillshare, I consulted for a number of startups before eventually joining Able as the first employee. I led design on many of our portfolio and partner products before transitioning to a leadership role focused on scaling the business and our team.
I'm currently Director of Product Strategy at Able and live in Brooklyn with my wife, Ingrid, and scottish fold, Huey.
Skillshare
As the first employee and Product Designer, I worked closely with the cofounders to design, develop, and bring to market the first version of the product. I also supported the design through the transition from offline to online classes.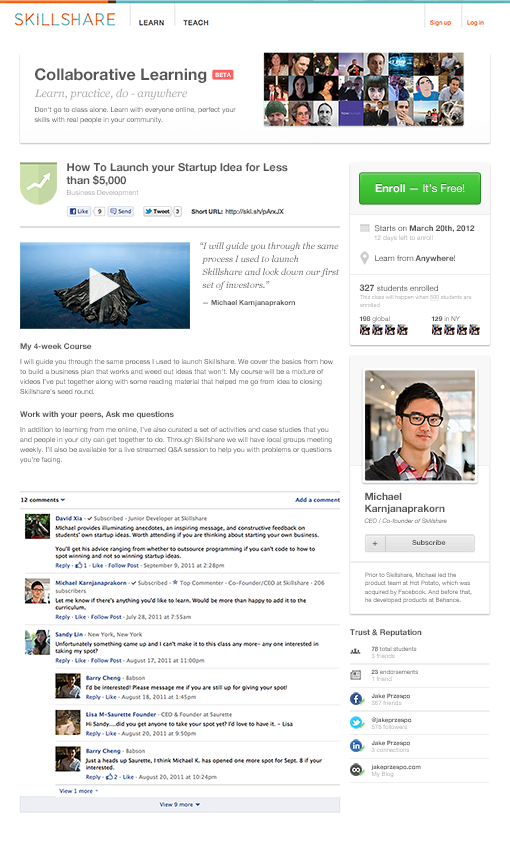 Civic Engagement Marketplace
A mission-driven nonprofit was looking to rebuild and scale their online community. I led the design and strategy for a rebuild of a marketplace for lawyers to offer pro bono legal services to nonprofits that need their expertise.
Film Consumer Product
The founder had a goal of redefining the film industry's business model. Collaborating with other engineers and team members, I led the design and strategy for a product that allows customers to watch day-and-date films in the comfort of their own home. We developed a working prototype that led to top industry experts joining the board and a significant Series A round.
Vocal Minority
On the heels of the 2016 election, I helped cofound and design an online giving circle to concentrate fundraising toward causes that were being affected under the Trump administration.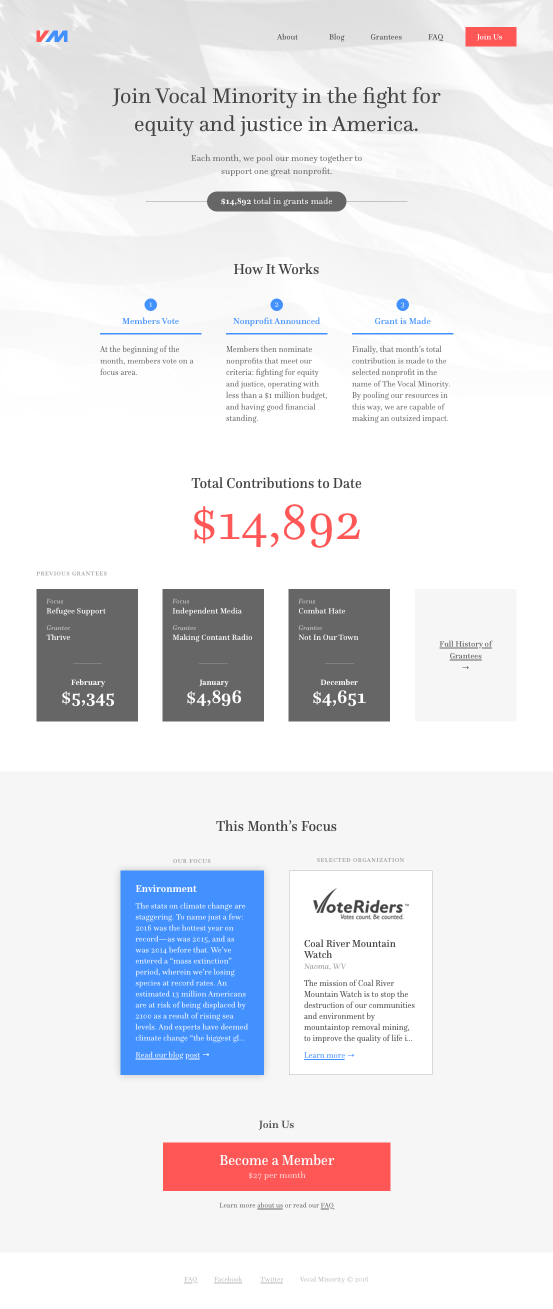 Able Internal Tools
We have a deep belief that people and process are more important than the ideas themselves. I've contributed to and, oftentimes, led design and product on a number of internal tools at Able, including products for KPI tracking, productivity, performance management, and culture.
Mental Wellness App
We met with a founder who wanted to change our relationship with mental health. I led the initial product exploration for a mobile app to help manage and destigmatize our individual mental health.
Medical Research Platform
Working with a product lead and members of the organization's board, I led the design for the launch of a cancer research platform where the country's top researchers can connect around critical projects.
Uncover
I worked alongside two cofounders — Mike Potter and Spencer Fry — to lead design on a product that offered companies the opportunity to award their employees with unique perks like Spotify, Netflix, and Uber credits.

Music-streaming Service
Working closely with board members and a few members of leadership, I designed growth-supporting product ideas including aspects of their onboarding, social, and ad-based features.
Fan Engagement Platform
I led design and product of a platform for bands to engage with their fans to offer unique fan experiences.
Steepster
In an attempt to help Steepster, the largest tea community on the internet, continue their growth, I collaborated with the cofounders on a few ideas. I designed and helped launch a new tea subscription service as well as a few design updates to their most trafficked pages to generate engagement and revenue.

App-enabled Children's Toy
Our partners, with expertise building innovative hardware products, wanted to imagine a new way for family members to stay connected to their children, grandchildren, nieces, and nephews. I led the design and product for a prototype of an app-enabled toy to do just that.
State Park Exploration App
A rather small project — I led the initial design for an app that helped California state residents explore the beautiful beaches and parks in their area.
Quirky
I consulted on a number of different desktop and mobile projects, including the Wink app and their e-commerce products, working closely with their VP of Platform.